Coronavirus infections continue to rise in Uganda with the ministry of health putting the figures at 20,459 confirmed cases, and 205 registered deaths. This is according to reports posted on 30 November 2020.
The President and the ministry of health have strongly advised the population against being complacent and not observing the standard operating procedures laid down by the government, especially wearing face masks, washing hands and keeping social distance.
At a recent auction in Kubwor, masks were worn but by very few people. Social distancing was practised mostly by the traders. Washing facilities were available at two locations for the close to one thousand people who attended the auction.
The Government has pledged to supply face masks free of charge to each Ugandan aged six years and above. Some districts, especially those bordering counties, have received these masks.
The Kalongo town community are awaiting the arrival of the face masks. For the moment, what is available has been provided through personal initiatives and interventions from non-governmental bodies.
A mask in the open market costs 2,000 Ugandan schillings.
If you have any more information on how Kalongo town is handling the pandemic, please feel free to send this to us.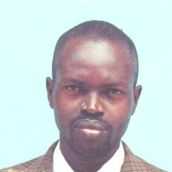 Obonyo Alex is The Kalongo Times, Bureau Chief, Kalongo Town Council. He currently serves on the Board of Governors at St. Charles Lwanga's College Kalongo and on the Pader Abim Community Multipurpose Electric Co-operative Society Limited (PACMECS); a cooperative dealing with the distribution of electricity in the northern service territory. He is a member of the Board of Directors chairing its Finance and Human Resource Committee. Between 2016 to July 2018 he also served on the Board of Governors at St. Kizito Hospital Matany in Karamoja. Alex worked at Dr Ambrosoli Memorial Hospital for 28 years (1990 to 2018), and for 14 of those years, he was the Hospital Administrator. He has a Masters of Science in Health Services Management and a bachelor's degree in Administrative Studies. Obonyo Alex is also a local Kalongo businessman.