Armed robbers yesterday evening between 7.45pm to 8.00pm attacked and killed a prominent wholesale businessman one Joseph Komakech aka Ajebo/Muzee aged 52 years, after robbing him of unspecified amount of money and items. He died of gunshot injuries to his chin and back after being rushed to Dr. Ambrosoli Memorial Hospital – Kalongo.
Also, one other person Mr. Opio Joel (a shop attendant) aged 26years who was with him at the shop was shot on the back was also rushed to the hospital but also succumbed to his injuries.
A few minutes prior to this incident, the same robbers at around 7.30pm attacked a businessman, a Mr. Oloya Rodrigo demanding money and clothes which he had to surrender at gunpoint. The previous day 22nd /11/2022, another businessman Mr. Olula and people who were in his shop were also robbed of unspecified amount of money in a similar fashion.
Apparently, the police were informed but the response came late and could not save the victims.
This morning, the LCV Chairman Mr. Leonard Opio Ojok and the Resident District Commissioner Mr. Okot Emmanuel visited the crime scene and talked to the curious people who had gathered to take stock of what had happened. The LC V Chairman cautioned the public to be vigilant, he commiserated with the community upon the tragic loss, and promised that the culprits would be traced and brought to book. He said that, there has been a spate of armed robberies in Agago district and up to about five suspects have been arrested and other investigations are still ongoing. He said that these robberies have taken place across the district; in Patongo, Lapono and now in Kalongo Town Council.
He also advised that everybody should be alert and take security very seriously. He said the security people are on top of the matter and they are already doing all that is possible to apprehend the culprits. Meanwhile the RDC Agago also reaffirmed the commitment of the security personnel to apprehend the culprits, he said, in the last few months, the district has registered up to eight to nine cases of armed robberies and a number of people have been arrested.
He cautioned the business operators to always be cautious of people of dubious characters and report immediately to the authorities. He however cautioned leaders as well as the local security personnel to always communicate to other respective authorities. As earlier mentioned, these incidents in Kalongo started on the 23rd/11/2022 with the robbery at Mr. Olula's shop, who reported but the report did not reach them, otherwise this unfortunate incidence of yesterday would have been averted the RDC said. They two leaders also decreed that all businesses in Kalongo Town Council should close by 7.00pm local time with effect from today.
Kalongo was still glorifying in celebratory mood following the beatification of the blessed Giuseppe Ambrosoli that occurred in Kalongo on the 20th /11/2022, but alas, the incidence of the 23rd/11/2022 has broken the hearts of the people of Kalongo as Muzee was a shrewd but very humble businessman who was loved by the people.
This incidence therefore calls for being watchdogs and each other's keeper if we are to vouch for our security and security of our properties. The chairman business community of Kalongo, Mr. Okello John Wilfred Ateng reiterated the need for vigilance and announced that he would soon call a meeting to chart the way forward.
The area Woman representative Agago District who is also State Minister for Economic Monitoring Hon. Akello Beatrice Akori also visited the crime scene.
Both Police and UPDF officers visited the crime scene and collected samples and information that can be used to get the perpetrators.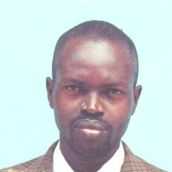 Obonyo Alex is The Kalongo Times, Bureau Chief, Kalongo Town Council. He currently serves on the Board of Governors at St. Charles Lwanga's College Kalongo and on the Pader Abim Community Multipurpose Electric Co-operative Society Limited (PACMECS); a cooperative dealing with the distribution of electricity in the northern service territory. He is a member of the Board of Directors chairing its Finance and Human Resource Committee. Between 2016 to July 2018 he also served on the Board of Governors at St. Kizito Hospital Matany in Karamoja. Alex worked at Dr Ambrosoli Memorial Hospital for 28 years (1990 to 2018), and for 14 of those years, he was the Hospital Administrator. He has a Masters of Science in Health Services Management and a bachelor's degree in Administrative Studies. Obonyo Alex is also a local Kalongo businessman.