The Kubwor Auction took place on 28th November 2020 providing a much-needed boost to the Kalongo town economy. It was the first auction since the national lockdown was announced in Uganda.
The monthly event attracted many traders both from Kalongo town, Agago district, and other neighbouring districts of Lira, Pader, Aleptong and Kitgum.
The traders sold an assortment of commodities ranging from used and new clothes, shoes, bags, solar lights, electronics and related accessories (mainly from China) and household goods like utensils.
Other items included livestock (goats etc.) and poultry (mainly chicken and ducks).
The auction has been designed to ensure accessibility of goods to the community (in every sub-county/Town council) brought in by traders near and far at relatively affordable prices.
About the Kubwor Auction
The Kubwor Auction is the only open mega-market event in Kalongo Town and is located in Kubwor parish which is one of the five parishes in northern Kalongo Town Council.
The auction started in 2017 and covers a surface area of about 150sq meters. The other nearest auction location is in Kuywee subcounty about 3km from the town border to the west, and in Paimol subcounty about 7km to the northeast of Kalongo Town Council.
Most of the socio-economic activities in Kalongo town and its vicinity have been affected by the coronavirus pandemic and the lockdown, so the return of the auction was a welcome relief especially so close to the Christmas festivities.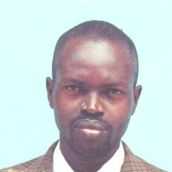 Obonyo Alex is The Kalongo Times, Bureau Chief, Kalongo Town Council. He currently serves on the Board of Governors at St. Charles Lwanga's College Kalongo and on the Pader Abim Community Multipurpose Electric Co-operative Society Limited (PACMECS); a cooperative dealing with the distribution of electricity in the northern service territory. He is a member of the Board of Directors chairing its Finance and Human Resource Committee. Between 2016 to July 2018 he also served on the Board of Governors at St. Kizito Hospital Matany in Karamoja. Alex worked at Dr Ambrosoli Memorial Hospital for 28 years (1990 to 2018), and for 14 of those years, he was the Hospital Administrator. He has a Masters of Science in Health Services Management and a bachelor's degree in Administrative Studies. Obonyo Alex is also a local Kalongo businessman.