Christmas day celebrations in Kalongo town kicked off with with a mass at Sacred Heart Catholic Church in Kalongo Parish. The mass included warnings about covid-19 and the upcoming elections.
The Rev. Fr. Gulyelmo Ojok, a visiting diocesan Priest from within Agago District, officiated the mass, while the Dr Ambrosoli Memorial Choir and the lively congregation brought the service to life.
Hundreds of believers from within Kalongo town and its surrounding areas flocked in to celebrate Christmas. They filled the church to capacity with a significant number remaining outside as required by the Covid-19 Standard Operating Procedures.
The celebration saw 28 new Christians initiated and join the Catholic flock. Of these, 14 were baptised and 14 others received their 1st holy communion.
Remembering the true meaning of Christmas
The Rev. Fr. Gulyelmo in his homily said God had not forgotten his children and had sent his only son Jesus Christ for us which was why the world was celebrating his birth today. He said Jesus came to atone for our sins and cleanse us which could only be possible if we accepted Jesus within us.
He said that as long Jesus was at the centre of the Christmas celebrations and people remained steadfast in their faith, it was OK that many people had prepared for Christmas by buying new clothes, special foods, drinks and entertainment.
Message on Covid-19
Fr. Gulyelmo had a message for the congregation on Covid-19.
He cautioned them against complacency towards the pandemic and stressed that the disease was real and was killing people. He said everyone needed to be careful and adhere to the Special Operating Procedures as directed by the Government.
He gave an example of an infected person who could easily infect up to 15 people who could, in turn, spread the disease even further.
He advised Christians to celebrate Christmas cautiously by avoiding overcrowding that could be a recipe for getting the covid-19 infection.
Message on the upcoming 2021 Ugandan elections
On the forthcoming Ugandan elections, Fr. Gulyelmo urged people to coexist even when they supported different candidates as they would still continue to live together after the election.
He concluded by wishing the congregation a merry Christmas.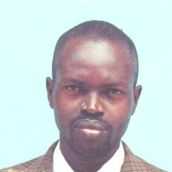 Obonyo Alex is The Kalongo Times, Bureau Chief, Kalongo Town Council. He currently serves on the Board of Governors at St. Charles Lwanga's College Kalongo and on the Pader Abim Community Multipurpose Electric Co-operative Society Limited (PACMECS); a cooperative dealing with the distribution of electricity in the northern service territory. He is a member of the Board of Directors chairing its Finance and Human Resource Committee. Between 2016 to July 2018 he also served on the Board of Governors at St. Kizito Hospital Matany in Karamoja. Alex worked at Dr Ambrosoli Memorial Hospital for 28 years (1990 to 2018), and for 14 of those years, he was the Hospital Administrator. He has a Masters of Science in Health Services Management and a bachelor's degree in Administrative Studies. Obonyo Alex is also a local Kalongo businessman.