On the 28th /11/2021, the community and Christians of Kalongo Catholic parish welcomed Bro. Ambrose Okema from the Congregation of Missionary Benedictines of St. Ottilien, Order of St. Benedicts -monastic religious order of the Catholic Church opened by Fr John Neudegger in Tororo Municipality in 1981.
During the same occasion of celebrating his monastic consecration on the 28th /11/2021, Bro. Ambrose Okema in a bid to support Dr. Ambrosoli Memorial Church Choir of the Catholic Church of Kalongo donated a brand-new Piano to facilitate the animation of the mass.
This day was a lucky day for the choir as one of the sons of Kalongo, Mr. James Otim who works and lives in the United-kingdom also donated a brand-new Piano to them. He also said that he is fulfilling a pledge that he had promised sometimes back to the choir.
Mr. Otim further pledged his commitment to support the church in key notably areas such as; ensuring a good public address system that can improve audibility during mass and also to ensure the availability of a generator and a good solar system for lighting the church as electricity is not very reliable and in a cloudy day as has happened on this particular day, the church apparently had deficient lighting that hampered visibility. Mr. Otim pledged to engage the sons and daughters of Kalongo in the diaspora to support this project and any other at home that is aimed at empowering the community and improving their lives in one way or another.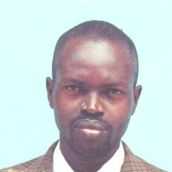 Obonyo Alex is The Kalongo Times, Bureau Chief, Kalongo Town Council. He currently serves on the Board of Governors at St. Charles Lwanga's College Kalongo and on the Pader Abim Community Multipurpose Electric Co-operative Society Limited (PACMECS); a cooperative dealing with the distribution of electricity in the northern service territory. He is a member of the Board of Directors chairing its Finance and Human Resource Committee. Between 2016 to July 2018 he also served on the Board of Governors at St. Kizito Hospital Matany in Karamoja. Alex worked at Dr Ambrosoli Memorial Hospital for 28 years (1990 to 2018), and for 14 of those years, he was the Hospital Administrator. He has a Masters of Science in Health Services Management and a bachelor's degree in Administrative Studies. Obonyo Alex is also a local Kalongo businessman.