On the 28th /11/2021, the community and Christians of Kalongo Catholic parish welcomed Bro. Ambrose Okema from the Congregation of Missionary Benedictines of St. Ottilien, Order of St. Benedicts – a monastic religious order of the Catholic Church opened by Fr John Neudegger in Tororo Municipality in 1981.
Following his return from studies in the United States of America, the Christian community of Kalongo celebrated a thanksgiving mass to praise God for yet another wonderful gift of a servant from amongst their community dedicated to serving the world and spreading the word and also to pray that God guides and protects him in his new journey of faith and devotion.
Bro. Ambrose is the son of Veronica Aryemo and late Guido Odong who are all from Kalongo Town Council. Bro. Ambrose becomes the third Religious Brother coming from Kalongo Town Council, the first being Bro. Alex, followed by Bro. George who both belong to Brothers of the Immaculate Heart of Mary; a lay congregation of the Diocesan Right founded in 1952 at Lodonga in Arua Diocese by Bishop John Baptist Casana.
The people of Kalongo welcomed Bro. Ambrose in a procession on his arrival and celebrated mass on the 28th/11/2021 at the Catholic Church in Kalongo and thereafter was treated to a reception at Green Oasis Guest House.
The thanksgiving mass was led by Fr. Thadeus as the main celebrant, Fr. Thaddeus is born of Kalongo Town Council, he is also the diocesan Priest attached to Lukome Parish. He appreciated the community of Kalongo for coming together to give thanks to God for the wonderful works he has done by choosing a son of the soil to join in the religious life of spreading the word of God.
Bro. Ambrose appreciated the community of Kalongo for their prayers ad support that enabled him to undergo the preparation process to become a brother. He pledged to be steadfast in the work of the Church and urged the Christians to continue praying for him.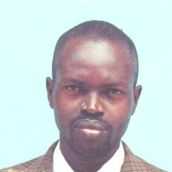 Obonyo Alex is The Kalongo Times, Bureau Chief, Kalongo Town Council. He currently serves on the Board of Governors at St. Charles Lwanga's College Kalongo and on the Pader Abim Community Multipurpose Electric Co-operative Society Limited (PACMECS); a cooperative dealing with the distribution of electricity in the northern service territory. He is a member of the Board of Directors chairing its Finance and Human Resource Committee. Between 2016 to July 2018 he also served on the Board of Governors at St. Kizito Hospital Matany in Karamoja. Alex worked at Dr Ambrosoli Memorial Hospital for 28 years (1990 to 2018), and for 14 of those years, he was the Hospital Administrator. He has a Masters of Science in Health Services Management and a bachelor's degree in Administrative Studies. Obonyo Alex is also a local Kalongo businessman.