Every year St. Charles Lwanga's College gives awards to the best performing students at O level and A level UNEB exams. The school has developed a system of giving an award to the best performing students and their teachers as a motivation to encourage them to work hard for better results and also benefit from such awards.
The best student for O. level 2020 Akena Geoffrey, was also the only one to attain a 1st grade and for A. Level 2021. Aketowanga Sharon who attained 15 points for Literature, History and Divinity (LHD) were given awards.
These two students were awarded each a 4" mattress and 5 counter books and 5 Pens. Due to COVID-19, this ceremony was witnessed by only a few teaching staff and the members of the Board of Governors St. Charles Lwanga's College. In ordinary times this would be done during school days and in the presence of all the students, teachers and parents. But this being the new normal it had to be done without students who are primarily the key intended target as this gesture is tailored to instil in them the desire for competition and ultimately improved performance.
The school's general performance was not all that satisfactory, but this was understandable because of the many compounding factors. It at least managed one first grade compared to the previous year where there was none.
The School also on this occasion recognized the teaching staff as well; particularly those whose students got credit 4,3 and distinctions 2 and 1 with a token in monetary terms calculated in accordance to the level and numbers of students who attained such credits and distinction.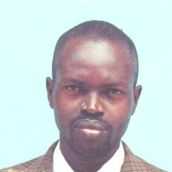 Obonyo Alex is The Kalongo Times, Bureau Chief, Kalongo Town Council. He currently serves on the Board of Governors at St. Charles Lwanga's College Kalongo and on the Pader Abim Community Multipurpose Electric Co-operative Society Limited (PACMECS); a cooperative dealing with the distribution of electricity in the northern service territory. He is a member of the Board of Directors chairing its Finance and Human Resource Committee. Between 2016 to July 2018 he also served on the Board of Governors at St. Kizito Hospital Matany in Karamoja. Alex worked at Dr Ambrosoli Memorial Hospital for 28 years (1990 to 2018), and for 14 of those years, he was the Hospital Administrator. He has a Masters of Science in Health Services Management and a bachelor's degree in Administrative Studies. Obonyo Alex is also a local Kalongo businessman.