Foundation Football Academy was founded by Mr. Kidega Michael Oryema from Kalongo Town Council. It supports talented young football players between the ages of 6 to 14. It also helps improve their wellbeing and instils moral guidance and a development focus.
In an interview with Mr Obonyo Alex of The Kalongo Times, Mr Oryema said he was inspired to set up the academy by his passion for football – both as a fan and a player. He also recognized that many of these children had limited opportunities so he came together with like-minded people to start the process of identifying and supporting young children.
He wanted to uplift this age group and help realise their untapped potential. He believed that, if properly nurtured from a young age, they had the potential to compete at the regional, national and international stages.
He believed that the recognition of their talent could open doors to education because some disadvantaged children from very humble backgrounds had been able to further their education through sponsorship resulting from excelling at games and sports. Unfortunately, many parents did not have the means to give their children a good education so their talents remained unrecognised and untapped.
Mr Oryema told The Kalongo Times that football was only one element of the support the Foundation Football Academy offered. The youth were given the opportunity for spiritual and moral growth, as well as work experience in areas like agriculture and business.
My Oryema said:
"I am determined to have the academy registered and do all it takes to ensure the team prospers into a formidable force and competes at regional, national and international level in the mid to long term. I appeal for sponsors and donors to provide the necessary funding that can enable the academy grow. I am optimistic that things will work out.
I appreciate The Kalongo Times for this interview and hope and pray that potential donors may read and find it within their hearts to extend a helping hand and support the academy so that together we build a prosperous young and talented group of children who will, God willing break the glass ceiling in the quest for professional football growth and development."
How the Foundation Football Academy started
The Foundation Football Academy started in August 2021 and is currently operating from St. Teresa Girls School playing field which has been provided on a temporary basis, while it seeks a permanent location.
Since August 2021, the academy had engaged in training the young people in the three demographic categories (Group I – 6 to 9 years, Group II – 10 to 12 years and Group III 13 to 14 year olds) on how to play organized competitive football.
Mr Oryema said that he had so far managed to get donations from friends and well-wishers. They had also asked each Child (member) to contribute four thousand Uganda shillings only (4,000/-). They had so far enrolled a total of 56 children into the academy.
Foundation Football Academy Achievements
Mr Oryema felt that the community was slowly starting to embrace the academy. Some parents were beginning to appreciate the opportunity it provided to the youngsters and were beginning to support their children with whatever necessities they needed.
The Academy had organized friendly matches with Horizon Kitgum which took place on 16 October 2021 in Kalongo Town Council.
On 21 October 2021, the team would travel to Gulu to gain exposure in line with the objectives of the academy.
Short term and long term goals
Mr Oryema said that in the short term, he would need to have all the team fully equipped with football uniforms, boots and balls as well as have the football pitch well equipped with goalposts. The team should then be able to compete and win football matches in the region.
In the long term, he planned to have his own pitch and necessary infrastructure. He also planned to have the team registered in the next year with the Federation of Uganda Football Association (FUFA) for the under 14s and to be able to compete effectively and win matches from within and without.
How people can support Foundation Football Academy
Mr Oryema said there were many children eager to join academy but as it was still at its infant stage, it was lacking in infrastructure and equipment.
The playground they were using on a temporary basis lacked goalposts so they had improvised with Eucalyptus poles in place of metallic poles.
They needed to procure eight poles and two nets which would cost about five hundred fifty thousand shillings only (550,000/-). The children were required to pay membership fees of 4000/- but very few had paid as some of the parents had not fully embraced the importance of this initiative or were unable to. This contribution was supposed to help procure the balls and other necessary equipment.
Uniforms and football boots were also still lacking so the children were currently wearing improvised uniforms. Most of the children did not have football boots and this caused problems when they played with those who had 'boots'. These boots were in reality improvised shoes and not real football boots at all.
The Team
There were a number of people who supported Mr Oryema with the management of the Academy on a temporary basis. They included an Assistant Director, Team Advisor, a Team Coach, Patron, Spokesperson, Secretary and a Spiritual leader. They also depended on well-wishers and those who were willing to help the Academy achieve its goals.
Thoughts on how Kalongo Town as a whole could be improved
Mr Oryema said that Kalongo Town council was a young town with a lot of opportunities to tap. He implored young people to analyse the challenges and identify ways to turn them into opportunities for doing business and ultimately economic growth.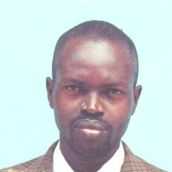 Obonyo Alex is The Kalongo Times, Bureau Chief, Kalongo Town Council. He currently serves on the Board of Governors at St. Charles Lwanga's College Kalongo and on the Pader Abim Community Multipurpose Electric Co-operative Society Limited (PACMECS); a cooperative dealing with the distribution of electricity in the northern service territory. He is a member of the Board of Directors chairing its Finance and Human Resource Committee. Between 2016 to July 2018 he also served on the Board of Governors at St. Kizito Hospital Matany in Karamoja. Alex worked at Dr Ambrosoli Memorial Hospital for 28 years (1990 to 2018), and for 14 of those years, he was the Hospital Administrator. He has a Masters of Science in Health Services Management and a bachelor's degree in Administrative Studies. Obonyo Alex is also a local Kalongo businessman.