Ugandan Presidential Candidate, Robert Kyagulanyi Ssentamu (commonly known as Bobi Wine), made a surprise visit to Kalongo Parish on Sunday 13th December 2020.
He was welcomed by Professor Ogenga Latigo who is the Incumbent independent MP for Agago North County.
He joined the faithful in a holy mass at Kalongo Parish Church in Agago district. He wished everyone a happy Sunday and said may the grace of God guide everyone.
He said he would be addressing the people of Agago, Abim and Kapelabyong. He committed his day into the hands of the almighty God.
Watch the video of Bobi Wine at mass in Kalongo Parish
Kalongo Roman Catholic Church
Kalongo Roman Catholic Church is a core part of the Deconry which was set up in memory of Daudi Okelo and Jildo Irwa.
It started out as a temporary grass-thatched church built by Father Gambarreto with support from Yosefu Ocaya and his wife Natalia Adwar who accompanied him on his journey to collect the remains of the two Martyrs from Paimol.
The majority of people in Kalongo are Roman Catholic and worship at this church.
Bobi Wine
Robert Kyagulanyi Ssentamu known by his stage name Bobi Wine, is a Ugandan politician, singer, actor, and businessman. He currently serves as Member of Parliament for Kyadondo County East constituency in Wakiso District, in Uganda's Central Region. He also leads the People Power, Our Power movement in opposition to President Yoweri Museveni. In June 2019, he announced his candidacy for the 2021 Ugandan presidential election.
About Kalongo Town
Kalongo is a town in the Northern Region of Uganda. It is one of the urban centers in Agago District.
Kalongo is located in the Acholi sub-region. It is approximately 78 kilometres (48 mi) southeast of Kitgum, the nearest large town. This is approximately 155 kilometres (96 mi), by road, northeast of Gulu, the largest city in the sub-region.
The 2002 national population census estimated the town's population at 9,700. In 2010, the Uganda Bureau of Statistics (UBOS) estimated the population at 14,300. In 2011, UBOS estimated the mid-year population at 15,000.
The following points of interest are found in the town of Kalongo, or near the edges of the town:
Offices of Kalongo Town Council
Kalongo central market
Dr. Ambrosoli Memorial Hospital, a 350-bed community hospital administered by the Roman Catholic Archdiocese of Gulu
Kalongo School of Nursing & Midwifery, a nursing and midwifery school affiliated with and administered by the Dr. Ambrosoli Memorial Hospital
Mount Kalongo, a solid rock formation that rises to a peak of 1,600 metres (5,200 ft) above sea-level, towering approximately 400 metres (1,300 ft) to the northwest of town
St. Charles Lwanga College, a mixed, boarding, secondary school (S1 – S6) affiliated with the Catholic Church
Kalongo Airstrip, a private airstrip administered by the Dr. Ambrosoli Memorial Hospital
St. Mary's School of Midwivery, affiliated with the Dr. Ambrosoli Memorial Hospital, with 120 students in 2011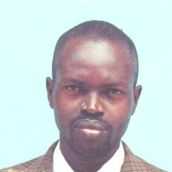 Obonyo Alex is The Kalongo Times, Bureau Chief, Kalongo Town Council. He currently serves on the Board of Governors at St. Charles Lwanga's College Kalongo and on the Pader Abim Community Multipurpose Electric Co-operative Society Limited (PACMECS); a cooperative dealing with the distribution of electricity in the northern service territory. He is a member of the Board of Directors chairing its Finance and Human Resource Committee. Between 2016 to July 2018 he also served on the Board of Governors at St. Kizito Hospital Matany in Karamoja. Alex worked at Dr Ambrosoli Memorial Hospital for 28 years (1990 to 2018), and for 14 of those years, he was the Hospital Administrator. He has a Masters of Science in Health Services Management and a bachelor's degree in Administrative Studies. Obonyo Alex is also a local Kalongo businessman.