Every year on 20 October, the Faithfull from all walks of life within and without the country flock to Wipolo to celebrate the feast of Paimol catechists' The Blessed Daudi Okello and Jildo Irwa. They were executed on 18 October 1918 because of their faith and the evangelization activities they were engaged in in Paimol.
The two martyrs were beatified by Pope John Paul II on 20 October 2002 and their remains were then brought back to the shrine where they are housed. Every year on this day the faithful congregate to celebrate the lives of the duo's martyrdom and also seek their intercession to help strengthen their faith in God and relief from the challenges in their lives.
The Paimol martyrs day celebration on this day of 20 October 2021 took place in Wipolo under strict and challenging environment due to Covid -19 restrictions. In spite of this, many faithful still flocked to Paimol using all sorts of means. Many walked from Lira, Gulu, Pader districts and other parts of the country. These groups who trekked from the distant places arrived two to three days early.
Others travelled on motorcycles popularly known as boda-bodas paying a fare of between Ugx10,000 to Ugx15,000 while many others travelled on the backs of cargo trucks paying a fare of between Ugx.1000 to Ugx 2000, and a few travelled in their private vehicles.
For the pilgrims who spent nights within the vicinity of the shrine, a few came with their packed food while many others had to eat from the few makeshift eating joints established outside the gates where a wide variety of food and beverages were sold. However, compared to previous years, the numbers of eateries were low again due to the pandemic restrictions.
Other business activities also took place including selling T-shirts with inscriptions related to the event such as church insignias, rosaries, medals, pictures of Jesus, the martyrs and the saints.
Sanitation at the shrine had improved compared to previous years. There were well designated wash rooms and running water in the compound to support the big number of pilgrims.
Security was very tight with armed policemen and the army manning all entry and exit points as well as a good number of them posted randomly within the compound.  At the entrance, people were checked to ensure they not only wore masks, but wore them correctly. Those inside were urged to keep socially distanced.
The pandemic prevented the usual open single mass being celebrated at the new pavilion shrine. People were instead split into smaller groups of not more than 200 people each. Others were blocked off outside the entrances until the mass in the different groups ended, then they were allowed in. This was done in line with the Standard Operating Procedure (SoP) for Covid-19.
The eucharistic celebration that The Kalongo Times reporter participated in took place at the pavilion led by Rev. Fr. Cyprian Ocen the Parish Priest of Patongo Catholic Parish, and supported by the choir from Gulu.
The mass was covered and relayed live on Wan Luo TV Gulu.
In his homily, The Rev. Fr. Cyprian started off by acknowledging the challenges experienced in the previous year because of Covid-19 which did not allow congregating normally to celebrate this very important day. This year had not been any different, though slightly relaxed. This notwithstanding, prayers were still able to take place.
He said "Covid-19 is still here and increasing even though we are praying, but it is tight, we thank God that we are able to congregate and pray though in smaller number at a time. Our being here is a manifestation of faith he said, and that is why we have come here unless one has come with a different agenda, but he believes we have all come because of faith in God and the evidence is the many people who left whatever they were doing and chose to come; some on foot all the way from Gulu, Lira, Pader districts and other parishes and for this we praise God."
The Rev. Fr. Cyprian went on to say that in the teaching of Jesus about the power of faith, even in its smallest form it can enable you to move a rock. This faith that the congregants had shown had enabled them to overcome all the challenges of moving on foot and using whatever means at their disposal to join in the feast of our martyrs.
Though it had not been possible to hold one single eucharistic celebration as in normal times, five or more congregations had been organised. He noted that the most important thing was the faith one had and the thoughts that one wanted to share with God. Whatever hurt your heart could be discussed with God who would respond, even though it may not be as quickly as one would like.
Rev. Fr. Cyprian reminded the believers that "to believe is for the wise and the spirit of the righteous is always with God" and if you believe in God, you live with God and that implies you are living a wise life as opposed to foolish life. The beginning of wisdom is knowing God, if you have faith, you know God and you live with God. When you experience challenging situations in life, people will always talk ill about you and such people can be regarded as foolish people because they see all challenges as punishment from God, yet God does not punish people, He is a just God and does not change, His love is everlasting.
If you don't have faith, you look at suffering as punishment, God's work can be likened to a black smith processing his product in a hot furnace so as to perfect it to the most ideal shape and quality. In the same way you have to go through pain and suffering; undergoing the hotness of the furnace to emerge the optimal and ideal quality necessary to enter the kingdom of God. As a believer, if this happens to you, it shows God is working with you and that is precisely why you walked on foot over long distances and bore the brunt of the hot weather and all difficulties associated with the journey to come and celebrate the martyr's day.
Being a Christian is not easy, if you experience suffering praise God; it is very bad when you turn away from God and involve yourself in bad ways like theft, prostitution, murder and any such vice that will divert you away from God's path and lead you to the path of Saturn and eventually to hell. It is therefore important for every Christian to remain steadfast in Christianity and not deviate from their faith, in the circumstance that you falter, the sacrament of penance will cleanse you from your transgressions. Your faith should help you overcome your sufferance he said.
Rev. Fr. Cyprian said fear not those who can only kill the body but cannot kill the soul, but rather fear the one that kills both body and soul.  In this era of Covid-19 pandemic, we are all afraid and that is why we wear masks, but what we fear most is death. To protect our selves is important and to protect others is noble as it portrays love.
By putting on your mask correctly and keeping distance, you avoid transmission to and from one another in case one is having the condition and that is a manifestation of love for one another.
By not protecting yourself you are endangering other people's lives and therefore flouting the commandment of "love your neighbour as you love yourself". We need to respect what our health workers tell us and if we don't, we would have failed to show love and care for our friends and everybody around us.
Daudi Okello and Jildo Irwa
Daudi Okello and Jildo Irwa showed a high degree of love for God. Daudi came all the way from Payira while his counterpart Jildo came all the way from Kitgum walking on foot and on dangerous terrain and through hostile territory to a completely new environment to preach the word of God.
In Paimol were they settled to teach the young catechumenates, one of the most important prayers was reciting of the Lord's prayer "Our Father who is in heaven", the catechumenates would converge and recite the prayer of the father in heaven. Wipolo is the Acholi word for heaven and that is where the place got its name.  
The catechists' taught love and faith in God, that, However, there were other people like the witchdoctors, the slave traders and some of the local chiefs who did not appreciate their coming to Paimol and therefore planned for their execution. 
The Catechists taught Love and Faith which the witch doctors did not believe in and saw it as a threat to their existence and livelihood, in the same way the slave traders who dealt in illicit human trade had no love for human life and therefore disregarded the commandment of love for thy neighbour. These bad people then plotted together to chase the catechists away, but the two catechists did not budge, they vowed to stay put as their mission was not to cause any harm to anybody but to preach the word of God.
This did not go down well with this group of people who then organised and brutally killed Daudi Okello. Jildo who was younger castigated them for killing his colleague for teaching the word of God and offered his life too. The group then executed him.
This happened on the 18 October 1918, long before any one of the members of the congregation were born he said. He recognised the magnitude of faith of the people from Gulu diocese, throughout Uganda and globally who believe and have faith in what the martyrs did and the persecution visited upon them because of their faith and strong belief. 
He praised all the catechists for the great work they were doing as they followed into the footsteps of Daudi Okello and Jildo Irwa. He further said were are all good Christians today because of the tremendous work of preparation and teachings by the catechists. He urged Christians to always move together with the catechists; to pray for them, help them, respect them as they were our shepherds. Even when they err or deviate from the correct path, we should always strive to bring them back respectfully without chastising them.
Lastly, Fr. Cyprian said, we had come to Paimol (Palamuko) to receive new teachings and to follow the footsteps of the blessed Dauidi Okello and Jildo Irwa. These ingenious young people had sculpted small pocket holes on the rock near the church where they played with the young children the game of "coro"during their leisure time.
He then prayed to God to help all the faithful who had come to praise Him through the intercession of Daudi Okello and Jildo Irwa and said "may they hear us".
He prayed for God to help all our families and all the people of Uganda. He asked him to give wisdom to all the leaders as well as those in government. Finally, he sought God's blessing for all people everywhere.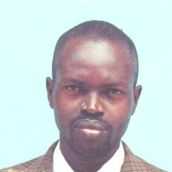 Obonyo Alex is The Kalongo Times, Bureau Chief, Kalongo Town Council. He currently serves on the Board of Governors at St. Charles Lwanga's College Kalongo and on the Pader Abim Community Multipurpose Electric Co-operative Society Limited (PACMECS); a cooperative dealing with the distribution of electricity in the northern service territory. He is a member of the Board of Directors chairing its Finance and Human Resource Committee. Between 2016 to July 2018 he also served on the Board of Governors at St. Kizito Hospital Matany in Karamoja. Alex worked at Dr Ambrosoli Memorial Hospital for 28 years (1990 to 2018), and for 14 of those years, he was the Hospital Administrator. He has a Masters of Science in Health Services Management and a bachelor's degree in Administrative Studies. Obonyo Alex is also a local Kalongo businessman.