Mr Obonyo Alex from "The Kalongo Times" sat down for an interview with Mr Okello Jimmy to discuss his business journey and his plans for the future. He talked to him about how his business has impacted his life and contributed to the socio-economic growth and development of Kalongo Town Council.
He started out by asking Mr Okello Jimmy how he started his business. The transcript of the interview is below.
When did you start your business?
I started my business in 2014 after finalizing my diploma course from Uganda Technical Institute Mbale, after which I decided to start my own business of welding metal objects and since then I have gradually grown.
What kind of business are you engaged in?
I specialize in metal fabrication (making metallic steel doors, chairs, windows, roofs, hand washing facility, gates, water tank stands, goal posts and many others. We are also engaged in training and skilling of youth both formal and non-formal.
How have you progressed since you opened?
I invested a start-up capital of ugx25,000- but have since grown overtime inspite of the Politico-economic challenges in the environment that hindered growth at the initial stage. I started at a very modest level welding broken metallic parts e.g bicycles, motorcycles and small fabrication works and this has gradually grown to major fabrication works on contract basis for institutions like schools, Churches, NGOs and even local government agencies.
This business has helped me fend for my family. I am able to house, feed, educate, clothe and meet my obligation as the breadwinner of the family. I have been able to support my relatives where necessary. One of the most important thing is the exposure and contact I have gained because of this work and this has opened doors for other opportunities. I am very emboldened by the fact that many youths who have passed through my hands are independent and successful plying the same or similar trade
What are the challenges you have experienced in the course of running your business?
The cost of the fabrication materials and of the equipment, and running them is very high and yet the capital that has been invested on the equipment is insufficient hence the lack of other important equipment like lead machine, designing machine, spraying machine and others.
Most of the materials are purchased from the nearest towns of Kitgum Municipality, Gulu and Lira Cities. We however prefer to procure most of our materials from Lira. The company does not have any transport means and relies mainly on public means which is quite expensive and not readily available all the time. The road is sometimes bad especially in the rainy season and this also increases the challenges of transport in our area.
The hardware shops in Kalongo have limited capability, they do not stock all the materials and this necessitates travelling to Lira City every so often; Power supply is quite erratic and this interrupts and significantly affects the works.
Highlight the achievements you have made since you started your company?
A lot of achievement has been registered. As I have mentioned earlier, the company has grown in size and scope. In the earlier days, many doors, windows, beds, chairs, tables and a number of other furniture were made from timber; but over in recent times many people have shifted away from timber only and now embrace metallic and steel materials and almost all permanent houses in the town council have steel doors, windows etc. This has in fact created a lot of demand and yet there were only a couple of metal fabrication workshop. Steel and metal fabrications are deemed more durable and last longer than timber. This does not in any way mean that timber is unimportant. Timber is still being used for the same purposes as well.
Having been one of the very first established metal fabrication workshops, and coupled by the fact that there were only two workshops in the town, the third one being located in the Technical Workshop at Dr. Ambrosoli Memorial hospital; the volume of work was immense necessitating the need to have more manpower to meet the demands. We therefore opened up apprenticeship for young boys and girls who saw opportunity and willingly approached us to get trained and this we did support. This then gave rise to new metal works and fabrication workshops. Those who had attained training from us and secured some capital took the opportunity.
Some of the notable success stories of young men and women we trained and are operating their own workshops are; Kilama from Kalongo Town Council, Mwanga from Karumu in Parabongo subcounty, Komakech from Kubwor in Kalongo Town Council, Odoch from Patongo Town Council all in Agago District; also benefitted are Oyoo from Kumi District and Akot Lilly from Namokora in Kitgum District.
Following the collapse of the LRA rebellion in the area and the post war period, a lot of infrastructure were destroyed and new ones had to be put in place. There was need for recovery and reconstruction and therefore, a number of NGO's and government intervention came into play. Schools were being constructed, hence the need for beds, furniture, doors and windows etc.
Opportunities also came from sons and daughters of the soil in the diaspora as well as those from within the Country but outside Kalongo town, they also approached us whenever they needed any service that we offered, and they have always been very happy and satisfied with our work even recommending us to other colleagues and friends.
I have also been able to purchase a standby generator, welding plant and other small equipment necessary for my work.
What in your opinion needs to be done to improve business in Kalongo?
We are a registered company and pay taxes, therefore we need government to do their due diligence of offering essential services necessary to facilitate our work.
Having reliable power supply is essential for business, the other issues that need equal attention are; the bad roads that need rehabilitation and regular maintenance, insufficient means of transport – vehicles leave Kalongo for other towns in the early morning, its impossible to get transport after 9.00am. A similar principal also applies for vehicles making return journeys. This makes it extremely difficult and expensive as one is bound to miss transport if he/she arrives after the only available transport means for that day has left.
Where do you see yourself in the next short to mid-term?
We intend to have our own yard for the workshop in mid-term. Currently we are renting some small place that does not allow for expansion and redesigning of the workshop. We hope to acquire all the essential and important tools and equipment necessary to improve the quality of our services. Our plan in the long term is to strengthen the carpentry section by acquiring planer machine for smoothing and shaping timber.
Tell us about any other service you offer?
We have also acquired a carpentry machine for ripping timber that is running and helping the carpenters in the town.
Do you employ other people besides yourself to help the operation of the business?
I have six workers who are engaged in the day-to-day activities of fabrication and welding. Because of the nature of the job, there is a lot of mobility as a number of times we have to work at the site. It is only portable items like doors, windows beds and others that are done at the workshop.
Tell us about any success story?
Some of the NGO's who developed projects to empower youths, contacted my company to help in hands on trainings for selected youths as there was no school available in the vicinity of Kalongo. Up to now there is only Kalongo Technical Institute which offers this training and this is as recent as 2019 but for more practical hands-on training, the students are often referred to my workshop to further hone their expertise.
Some of these NGO's that partnered with us were; Christian Children Fund, Pader, World Vision and others.
Besides the training that we are engaged in, we have also engaged in many building and construction projects, most notably, extension of the Kalongo Catholic Church especially the metallic roof framework and the benches for sitting. We have also made decker beds for St. Mary's Midwifery Training School, Dr. Ambrosoli Memorial Primary School and Kalongo Girls dormitory. We also constructed the metallic roof framework for Maternity ward of Dr. Ambrosoli Memorial Hospital and the hospital main gate, Voice of Salvation Church and Kalongo Town Council metallic roof frameworks, Wipolo Martyrs shrine Rectors office metallic roof framework as well as at Arembwola Health center in Abim District.
We also fabricated a water tank stand and the main gate at Heritage Villa at the late Prof. Dr. John Joseph Otim in Kubwor Parish -Kalongo Town Council and many other works within the districts of Agago, Pader, Abim, Amolater and other districts.
What is your last word?
There is still a lot of opportunities in this business. People continue to put up new building structures every day, new furniture is needed in new classroom blocks, churches, homes, health facilities, offices and many other such places and where there is demand there should be a corresponding supply and therefore more work for more artisans mechanics technicians and carpenters.
Hard work pays; I want to encourage the young people to not shun technical work as you will never go hungry unless you are lazy; there is always some new work or at least a repair of some sort.
I pray that goodwill people may come to our support as we still need some of the essential equipment necessary to perfect our services. I am very appreciative of "The Kalongo Times" for giving me this opportunity to share my experience with the world. Thank you so much.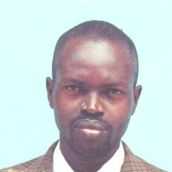 Obonyo Alex is The Kalongo Times, Bureau Chief, Kalongo Town Council. He currently serves on the Board of Governors at St. Charles Lwanga's College Kalongo and on the Pader Abim Community Multipurpose Electric Co-operative Society Limited (PACMECS); a cooperative dealing with the distribution of electricity in the northern service territory. He is a member of the Board of Directors chairing its Finance and Human Resource Committee. Between 2016 to July 2018 he also served on the Board of Governors at St. Kizito Hospital Matany in Karamoja. Alex worked at Dr Ambrosoli Memorial Hospital for 28 years (1990 to 2018), and for 14 of those years, he was the Hospital Administrator. He has a Masters of Science in Health Services Management and a bachelor's degree in Administrative Studies. Obonyo Alex is also a local Kalongo businessman.